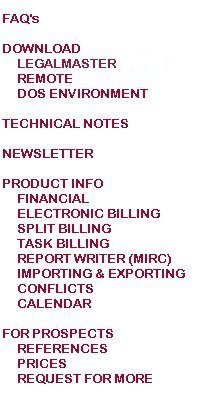 Download the latest Remote Transaction Data Entry executable

Click below left to download the latest version of Legalmaster's Remote Transaction data Entry for Windows. What you'll get is a file called LMWINREM.ZIP. That file must be unzipped (extracted) into your Legalmaster Remote program folder before it will actually run.
Many files and settings are required to run Legalmaster's Windows Remote. This file is just the executable. It will not run unless you have already previously installed the complete Windows Remote system on your computer.
The table below shows the dates of the last few significant releases of Windows Remote. The last one is, of course, the most recent, and reflects the version currently available. We display the version number toward the upper right of your Remote screen and under Help/About. If your version number is lower than the last one listed in the table below, you should download the most current version.
| | | |
| --- | --- | --- |
| Date | Version | Features |
| 4/29/98 | 1.0 | Initial release |
| 7/31/98 | 1.09 | Client's telephone number displayed next to client's name |
| 12/8/98 | 2.14 | Adds Options to skip rate and amount and/or group fields as you enter fees. Adds options to audit trail report: lets you supply a date range and subtotal or break pages by attorney. |
| 12/15/98 | 2.15 | Implements compiled DDF's (technical enhancement to increase speed and provide more reliable data handling) |
| 1/21/99 | 2.19 | Adds option to include complete Client name and first Case description text line on audit trail report. |
| 5/11/99 | 2.22 | Not a critical release except for the one firm who bought a custom enhancement to prevent fee rates and amounts from appearing. |
| 8/2/99 | 2.25 | If it doesn't already exist, creates your default export folder when you export a batch. |
| 1/3/00 | 2.29 | Permits entry of dates in 1900's or 2000's regardless of your Windows Regional settings |
| 10/21/00 | 2.32 | The first version that works both with Legalmaster for Windows and the older Legalmaster'97 for DOS |
| 4/27/01 | 2.35 | Bug fix for users of Windows host who identify matters by alternate ID. |
| 6/4/02 | 2.44 | Added messages if the export process does not fully execute. |
| 6/25/02 | 2.45 | Lets you copy a rejected batch back into your data folder so that you may modify its contents. |
| 12/31/03 | 3.08 | Creates empty transaction files for newly added stations |
| 2/11/05 | 3.18 | Incorporation of new spelling checker component. You must also copy and unzip SPELLING.ZIP into your Remote Program folder(s). New spell checker requires version '64 or later. |
| 3/31/05 | 4.02 | Incorporates new Legalmaster'65 features, most notably, the ability to spell check an entire batch. |
| 9/2/05 | 4.03 | Release of Remote'66. |
| 12/13/05 | 4.07 | Fixed very obsure bug that only occurred if you turned on the feature to omit closed matters from your drop down list and had more closed matters assigned alternate ID's than you had open matters assigned alternate ID's. |
| 1/20/06 | 4.08 | Added the "Picture Your Day" feature that lets you see a graphical representation of how you spent a day. Requires that you're running at least Legalmaster'66 Remote. |
| 5/11/06 | 4.15 | Added requirement to confirm when you save any fee transaction that has been written up or down. |
| 7/13/06 | 4.18 | Major enhancement that permits Remote users to view one another's unexported batches. This feature, available to users of Remote'66 and later, requires that all Remote batches be stored in the same folder on the server. In addition, this upgrade requires that network users of all Remote versions ('61 and up) share a single Remote Program folder on the server. This upgrade also calls for a new copy of the REMTONE.TXT file. Once you've installed this new Remote version, you will have 30 days to get the new REMTONE.TXT from CSP. Please don't wait until the last minute. |
| 10/14/09 | 5.05 | Legalmaster'70 released |
| 10/20/10 | 5.18 | Legalmaster'71 released |
| 4/2/12 | 5.25 | View batch sort criteria preserved while you're in Remote |
| 7/31/12 | 5.26 | Added option to append activity code description to beginning of transaction description |
| 3/08/13 | 6.04 | Legalmaster'73 released |
| 3/22/13 | 6.05 | Help file in HTML (chm) format added. Users now have help files available in both the old WinHelp format as well as HTML. HTML is the default. |
| 9/15/14 | 7.03 | Legalmaster'74 released |
| 10/9/14 | 7.04 | Added ability to export transactions for either one timekeeper or all timekeepers in a batch |
| 7/30/15 | 7.08 | Legalmaster'75 available |
| 7/1/16 | 7.18 | Legalmaster'76 released |
| 12/22/16 | 8.01 | Added option to bypass Windows browser when you specify your export path |
| 5/2/17 | 8.07 | Legalmaster'77 released |
| 3/5/18 | 8.15 | Legalmaster'78 released |
| 2/1/19 | 8.18 | Legalmaster'79 released including phase level budget warning message |
| 2/1/20 | 8.22 | Legalmaster'80 released |
| 4/23/20 | 8.24 | Much more attractive "recently viewed" list |
| 7/24/20 | 8.25 | Added more frightening warning if a Remote user opts to overwrite his or her previously exported batch |
| 11/20/20 | 8.27 | Matter level budget warning message added to Legalmaster'80 |
| 4/16/21 | 8.37 | Legalmaster'81 released with links to Conflicts and Delinquent Account Trackinig |
    File Name         Date      Description
---
 lmwinrem.zip      8/2/2021  Legalmaster Windows Remote Transaction Data Entry 
 RemInst.zip  7/30/2013  Legalmaster Windows Remote Installation Program 
 
 spelling.zip      02/11/2005  Spelling checker component 
 
 WRTutor.ppt      07/13/2015  Legalmaster Windows Remote Transaction Data Entry Tutorial